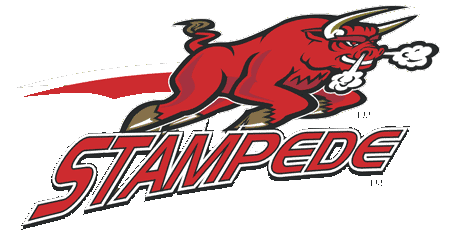 Team Practice March 17, 2002
---
"It can't get any better than this.....NOT....IT SURE CAN"!!!
Sunday, March 17, the Stampede held its 1st official Workout/Meeting. Wow, do these guys look good, and I'm not just talking from a woman's' perspective, but an athletic perspective. These guys have obviously been eating their WHEATIES. It was a great day and a great workout. Everyone worked hard, but took the time to get acquainted with their teammates. After the workout, Co-Owner Paul DiGiacomo introduced other key staff, covered items pertaining to current events and points of interest, and opened the floor for questions. Staff member, Harold Frazier discussed football equipment, displayed the new helmets (Wow, are they nice!), and gave general information for ordering. The Stampede Coaches were introduced and they also covered items of interest.
Since then we have held our 2nd Tryout, and we'll have that information posted no later than Tuesday, March 26, so stay tuned. According to Staff, Paul DiGiacomo, Harold Frazier, John Sorg & Coach Armondo we've finally captured the "best of the best". I sure hope you made it 'cause this is one team you're going to THANK THE LORD ABOVE that you're part of. Ok, I just want to brag a "wee bit more", but, c'mon, have you seen this team? Man, do we have the stuff!!! Ok, enough said, but one last feather in our cap. Guys, aren't you just "aching" to get out on that field, strutting all that hard work from the gym, standing proud, wearing that "ornery smile", and then "tearing it up"?! I know we here at the Stampede Staff are just flying high. So again, stay tuned for more updates........'cause they're coming soon.
Teena Sexton-Herr
| | |
| --- | --- |
| "and they're off!" | John Sorg testing out the new talent. |
| Tai Shai Jenkins proving it's not just about size, but quickness as well. | Paul DiGiacomo and some veteran players, Scott Patterson & Brian Hendrix giving pointers to a few of the new guys. |
| Paul & John covering everything you ever wanted to know about football... and then some. | The workout drew in fans of all ages, Meta, Devon & Eli. |
| | |
---
Go Back to Photos Directory | Go Back to Welcome Page

Copyright &copy 2002 South Bend Stampede